HERO-TECH 120ton water cooled screw chiller

HERO-TECH water cooled screw chillers with featured advantages as following,
l  Low cost
l  Energy saving
l  Easy connection
l  Easy and convenient maintenance

l  Power:3PH 380-415V 50HZ
Well Known Brand Compressor
¨      Unit adopts Germany BITZER or Taiwan HANDBELL brand semi-hermetic screw compressor. The latest 5 to 6 patented screw rotor profile with excellent efficiency.
¨      Adjustable infinite or closely stepped capacity control, features energy efficient, stable and quiet running.
¨      Most advanced patented highest precision manufacturing process.
¨      Built-in full intelligent monitoring and protection including thermal motor temperature monitoring, phase sequence monitoring, manual reset lock-out, oil temperature sensor.
¨      Wide range of refrigerant for option, includingR22 and R134a, R407c.
Microprogramming Control System
¨      Industrial PLC centralized control combined with compressor capacity control system, precisely monitor.
¨      Integrated protection for low temperature,high/low pressure, anti-freezing, phase missing, anti-phase, overload, motorover temperature, oil differential, flow switch, start up latency.
¨      Optional operation language, menu leading, unit running state easy to adjust.
Easy Installation,Reliable Running
¨      Closely stepped start-up, minimize impact to electricity.
¨      Steady and safe running, low vibration, easy for installation.
¨      Compact structure, less space demand and lightin weight, easy for transport and installation.
¨      Completely wired, inspected and tested pre-delivery, saving installation time and cost.

l  3PH 220V/240V/380V/440V/480V/560V 60HZ
l  R410A, R134A for option
l  Soft starting
l  Plate heat exchanger
l  Electronic expansion valve
l  Nonferrous water loop

l  Pump: Minamoto Iron pump or high pressure pump

HTS-W Series Water Cooled Screw Chiller Technical Specifications
Model

HTS-120WD

Nominal cooling capacity

Kcal/h

346924

KW

404

Max power consumption

KW

84

Power source

 

3PH  380V/50HZ

Refrigerant

Type

 

R22

Control

 

Thermostatic expansion valve

Volume

KG

33×2

Compressor

Type

 

Semi-hermetic screw

Start mode

 

Y-△

Capacity control

%

0-25-50-75-100

Power

KW

42×2

Evaporator

Type

 

Shell and tube

Coolant flow

m3/h

59

Water pressure drop

KPa

42

Inlet and outlet connection(BSP)

Inch

5

Condenser

Type

 

Shell and tube

Cooling water volume

m3/h

73.2

Water pressure drop

kPa

42

Pipe connection

Inch

5

Unit protection Module

Compressor Overheating, Motor Overload, High&Low Pressure, Chilled Water Over Temperature, Water flow protection

Dimension

Length

mm

2950

Width

mm

810

Height

mm

1650

Net weight

KG

2200

Running weight

KG

2500
NOTE: The specifications based on the followingdesign conditions:
l  Chilled water supply/return temperature: 12℃/17℃
l  Cooling water inlet/outlet temperature: 25℃/30℃
We reserve the right to modify the specificationswithout further notice.

Pre-sale service

1.      Professional and technical consultation and communication
2.      Equipment selection and calculation
3.      Product application solutions recommendations
4.      Engineering solutions.
In- Sale service

1.      3Steps quality control: IQC, PQC, OQC
2.      Provides timely installation and operation guidance
3.      Chiller commissioning according to requirements
4.      100% on-time delivery
After-sale service

1.      12months guarantee for all products
2.      Within warranty, any problem caused by defects of chiller itself, service offered tillthe problem solved.
3.      Service call replied immediately, solution offered within 4hours, whatever daytime ornight.
4.      Ensuring replaced parts or updated parts can be used for sold chillers,

We attend worldwide exhibitions, you can see us in your country especially on Plastic industries' exhibitions.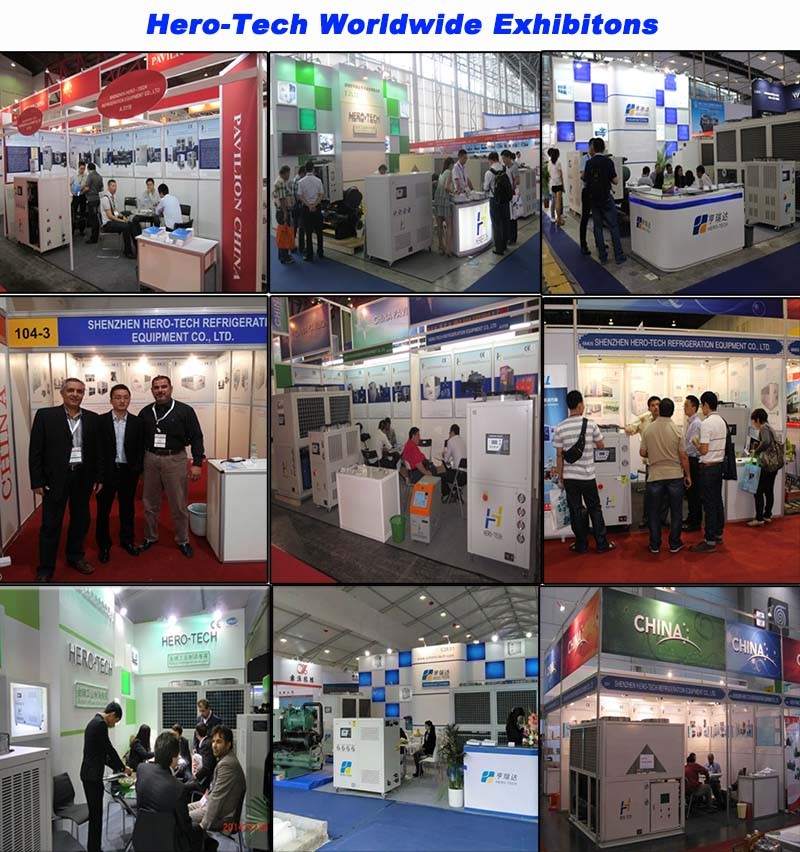 If you need more info about scroll chiller, screw chiller, glycol chiller, laser chiller, oil chiller or Mold temperature controller, please do not hesitate to contact us. Contact details as following,
 

Shenzhen Hero-Tech Refrigeration Equipment Co., Ltd




Contact: Mrs Lydia Yang




Tel:+86 159 2005 6387




Direct line: +86 755 81737187




Skyp: lydia915




WeChat: lydiayang915




WhatsApp:+86159 2005 6387




QQ: 158735585




Email:lydia.yang@waterchiller-china.com