HERO-TECH 1/2hp to 10hp oil chiller
HERO-TECH oil chiller instructions and

Oil chiller is widely applied in cooling lubricating oil, hydraulic oil and the cooling oil of tooling machine, such as CNC , grinder, machining center, combined machine tool and other precision machine tool. Oil chiller is designed to precisely control the oil temperature, avoid heat distortion, so to ensure machining precision.
The oil chiller is a unit which performs cooling of the hydraulic oil, lubricating oil and cooling oil of machine tools. 
In various parts of the machine tool spindles the bearings and gears get overheated and thermal deformation occurs due to the high speed rotational impact. Then the displacement of the shaft affects the machining accuracy. Also, as a result of the temperature rising of the hydraulic oil of the actuator, impact on the machining accuracy resulting from oil degradation due to changes in speed is also a reason for concern. The Oil Chiller performs cooling down by circulating oil and thus prevents oil temperature rise. The environmental resistance is also significantly improved compared with conventional units. Even at times when a lot of oil mist gets scattered, this product demonstrates the capability of being "dirt resistant" and "able to retain its functionalities even when getting dirty".
HERO-TECH oil chiller advantages
l  Low cost
l  Energy saving
l  Easy connection
l  Easy and convenient maintenance
HERO-TECH OIL CHILLER design features
¨      Adopt European or Japanese brand compressor, stable performance, high efficiency andlow noise.
¨      HTOI series immersion type oil chiller equipped copper coil type evaporator, without tank; 
¨        HTO series oil chiller equipped with copper coil-in-tank type evaporator,and shell and tube type evaporator for option.
¨      Famousbrand electric components are employed to ensure long service life.
¨      Speciallydesigned control system, ±1℃ control accuracy.
¨      Importedoil pump for high temperature fluid, high pressure, large flow rate and stable.
¨      R22charged for standard design, R407C, R134A, R410A for option.
¨      Fullprotection for system, including high/low pressure, high discharge temperature,compressor motor overheat, over current, anti-freezing, flow switch and quickbreak switch.
¨      1/2HPto 2HP: 1PH 220V/50HZ
3HP and above: 3PH 380V-415V/50HZ
 HERO-TECH oil chiller Applications

¨      Lathe,high speed lathe
¨      Internal-externallapping machine
¨      ElectronDischarge Machining
¨      Hydraulicpress equipments
¨      Grinder,broaching machine, milling machine
¨      Comprehensiveprocessing center
¨      Woodengraving machine, wood cutting equipment, etc.
HERO-TECH oil chiller specifications
model[HTO-***]

1/2A 


2A

3A

5A

6A

8AD

10AD

design type

Packaged oil chiller

nominal cooling capacity

kcal/hr

2752

4446

6803

11094

13244

18060

22188

kw

3.2

5.17

7.91

12.9

15.4

21

25.8

input power

kw

2

2.25

3.37

5.68

6.38

8.25

11.5

power source

1PH 220V 50HZ

3PH 380V~415V 50HZ

oil temperature range

20C to 45C

refrigerant

ype

R22

control

capillary

compressor

type

hermetic-rotary

hermetic-scroll

power

kw

1.52

1.73

2.7

4.55

5.25

3.5*2

4.55*2

condenser

ype

 finned coil + low noise axil fan

air volume

m3/h

1500

2000

3000

5000

6000

8000

10000

fan power

kw

0.15

0.15

0.15*2

0.15*2

0.19*2

0.25*2

0.45*2

evaporator

type

tank with copper coil /shell and tube

chilled oil volume

m3/h

2.3

3.6

5.4

9

10.4

14.4

18

pipe connection

inch

1/2

1/2

3/4

1

1

1

1

oil pump

power

kw

0.55

0.55

1.1

1.5

2.2

2.2

3

max lift

m

32

32

35

40

25

25

38

safety devices

compressor inner protection, over current protection, high/low pressure protection, over temperature protection, flow rate protection, phase sequence/phase missing protection, low level coolant protection, anti freezing protection, exhaust overheat protection

dimension

length

mm

650

650

980

980

1120

1300

1500

width

mm

520

520

560

560

610

680

760

height

mm

1015

1015

1350

1350

1390

1530

1660

net weight

kg

65

85

132

165

183

275

355
NOTE: The specificationsbased on the following design conditions: 
l  Cooling airinlet/outlet temperature: 30℃/38℃
We reserve the right to modify the specifications without further notice.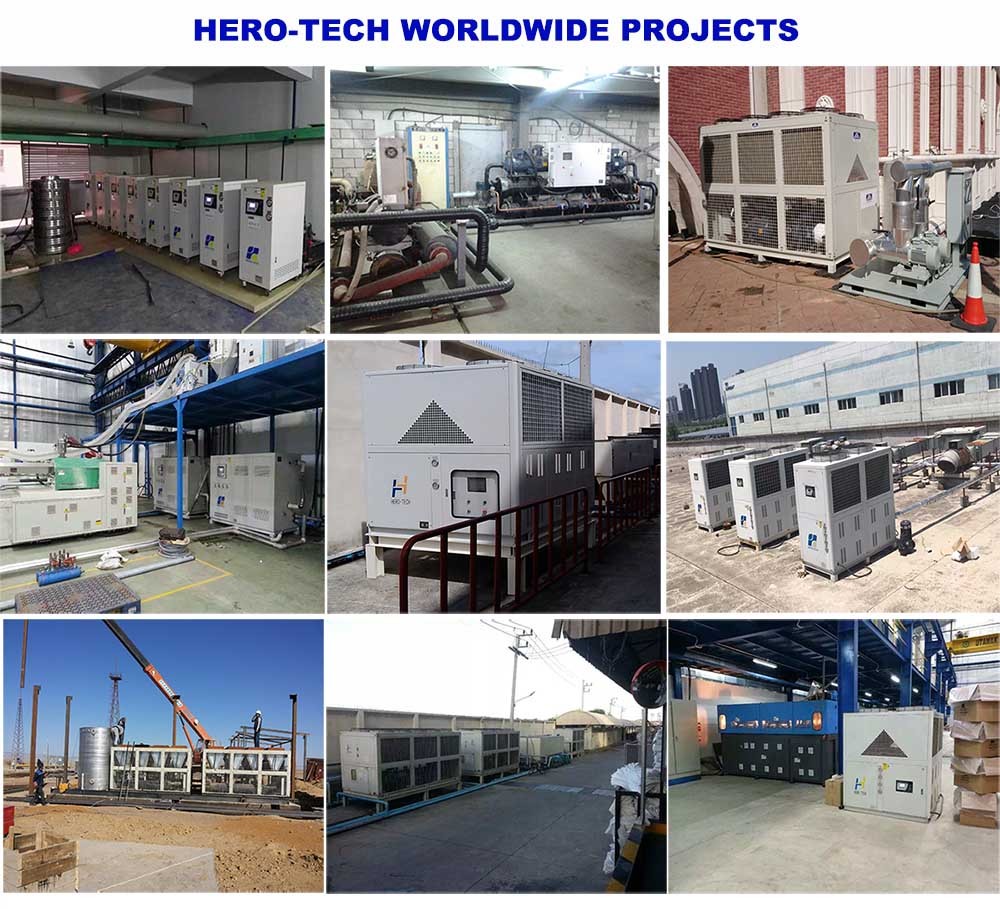 All our chillers are packed with plywood box for safety consideration.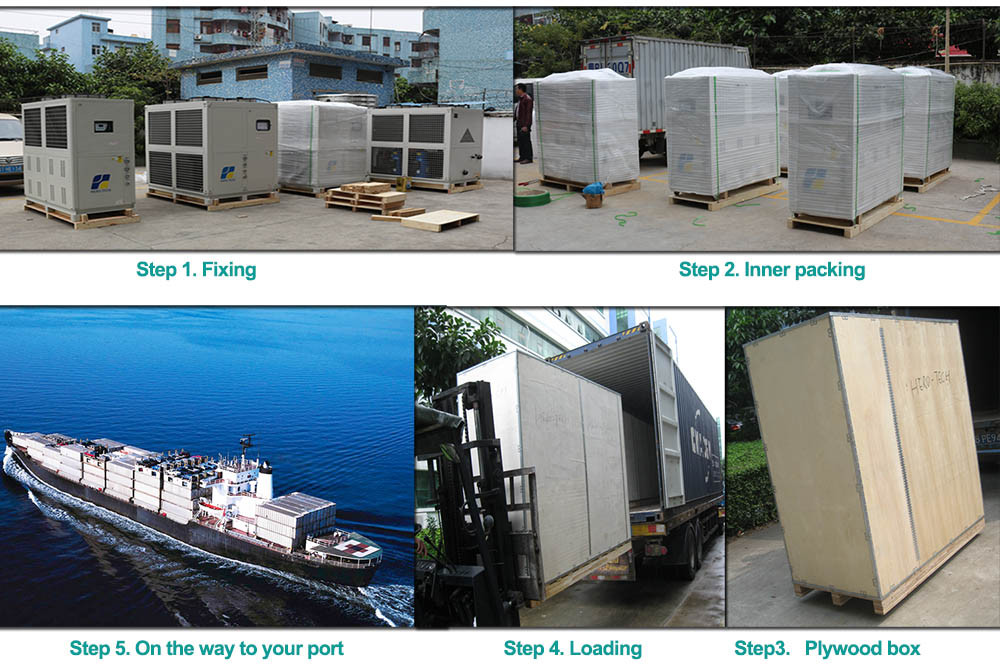 Pre-sale service

1.      Professional and technical consultation and communication
2.      Equipment selection and calculation
3.      Product application solutions recommendations
4.      Engineering solutions.
In- Sale service

1.      3Steps quality control: IQC, PQC, OQC
2.      Provides timely installation and operation guidance
3.      Chiller commissioning according to requirements
4.      100% on-time delivery
After-sale service

1.      12months guarantee for all products
2.      Within warranty, any problem caused by defects of chiller itself, service offered tillthe problem solved.
3.      Service call replied immediately, solution offered within 4hours, whatever daytime ornight.
4.      Ensuring replaced parts or updated parts can be used for sold chillers,

We attend worldwide exhibitions, you can see us in your country especially on Plastic industries' exhibitions.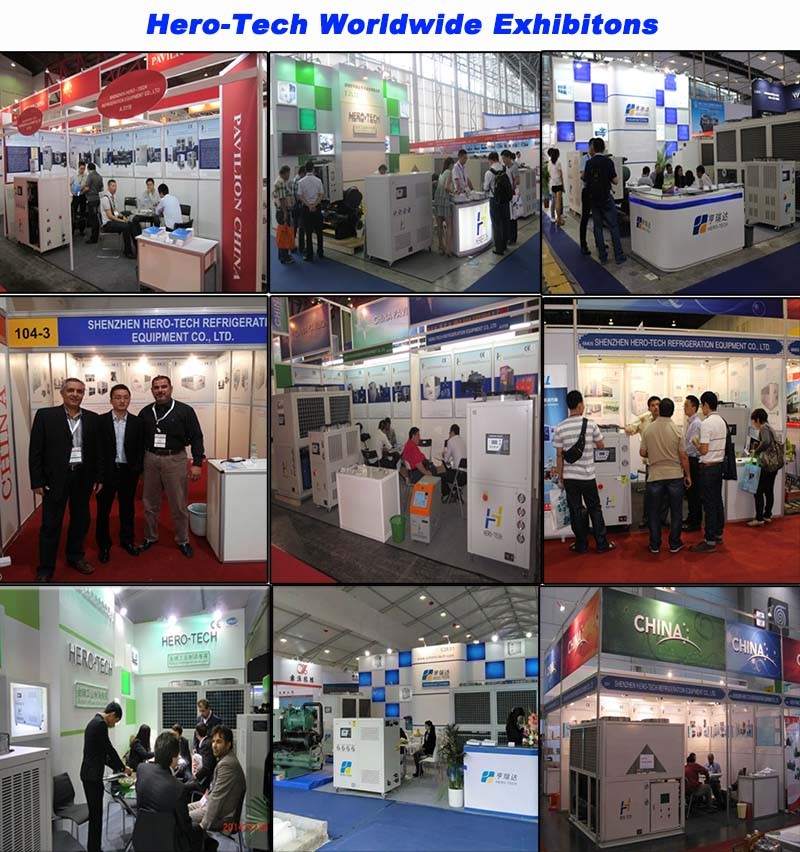 If you need more info about scroll chiller, screw chiller, glycol chiller, laser chiller, oil chiller or Mold temperature controller, please do not hesitate to contact us. Contact details as following,
 

Shenzhen Hero-Tech Refrigeration Equipment Co., Ltd




Contact: Mrs Lydia Yang




Tel:+86 159 2005 6387




Direct line: +86 755 81737187




Skyp: lydia915




WeChat: lydiayang915




WhatsApp:+86159 2005 6387




QQ: 158735585




Email:lydia.yang@waterchiller-china.com